Greta Alfaro
Pamplona, 1977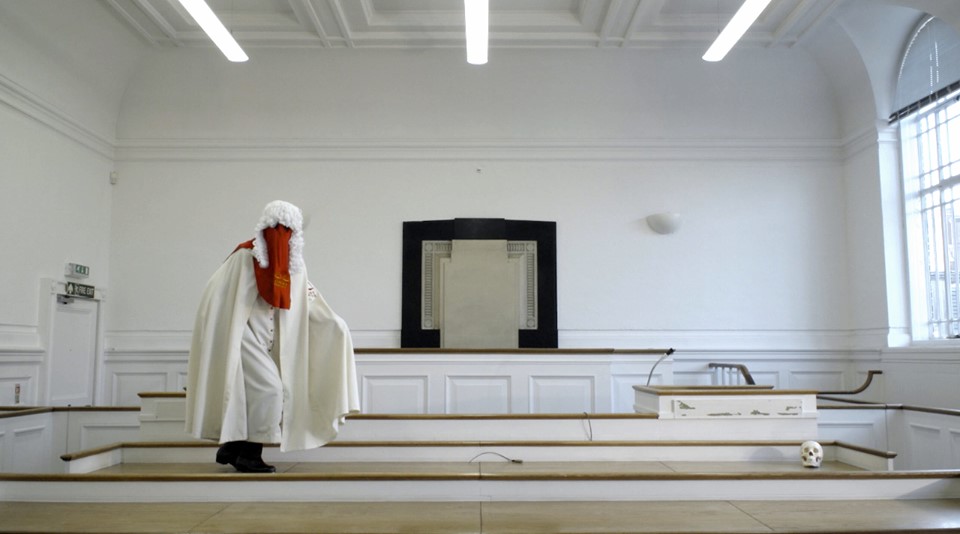 "I Will Not Hesitate to React Spiritually" (2019), still from the video, Lambeth County Court - Roaming Room, London.
Greta Alfaro (Pamplona, Spain, 1977)
Greta Alfaro lives and works in London. She graduated from an MA in Photography in 2011 at Royal College of Art, London, after a BA in Fine Arts by Universidad Politécnica of Valencia in 2001. She has got Scholarships and Prizes from the Collection CAM of Contemporary Art, the Moving Image Fair in New York, the Genesis Foundation from London and the Photography Prize for Young artists by El Cultural Magazine (El Mundo). Her Solo Exhibitions include A Very Crafty and Tricky Contrivance (Fish and Coal Building, London, 2012); Invention (curated by Andrea Paasch at Museo Ex Teresa Arte Actual, Mexico DF, 2012); Praise of the Beast (Huarte Center for Contemporary Art, Pamplona, 2010); In Ictu Oculi (curated by Antonia Gaeta, at Carpe Diem arte e pesquisa, Lisbon, 2009) and Ricorrenza (curated by Alba Braza Boïls, at Dryphoto arte contemporanea, Prato, Italia, 2008). Most recent Groups Shows are: New Order: British Art Now, at Saatchi Gallery, London; Whitechapel Open at Whitechapel Gallery, London, Inanimate Beings. Inéditos at La Casa Encendida, Madrid; Drama, Baby, Drama at Kunsthaus Essen, Grmany; Bestes, Bestiaux et Bestioles at the Conciergerie in Paris; Bloomberg New Contemporaries at ICA, London. Her videoart works have been shown at Centre Pompidou (Paris) into the context of Rencontres Internationales París/Berlín/Madrid; Contest Section of International Film Festival of Rotterdam and Punto de Vista Documentary Festival in Pamplona.