Moisés Mañas
Elda (Alicante), 1973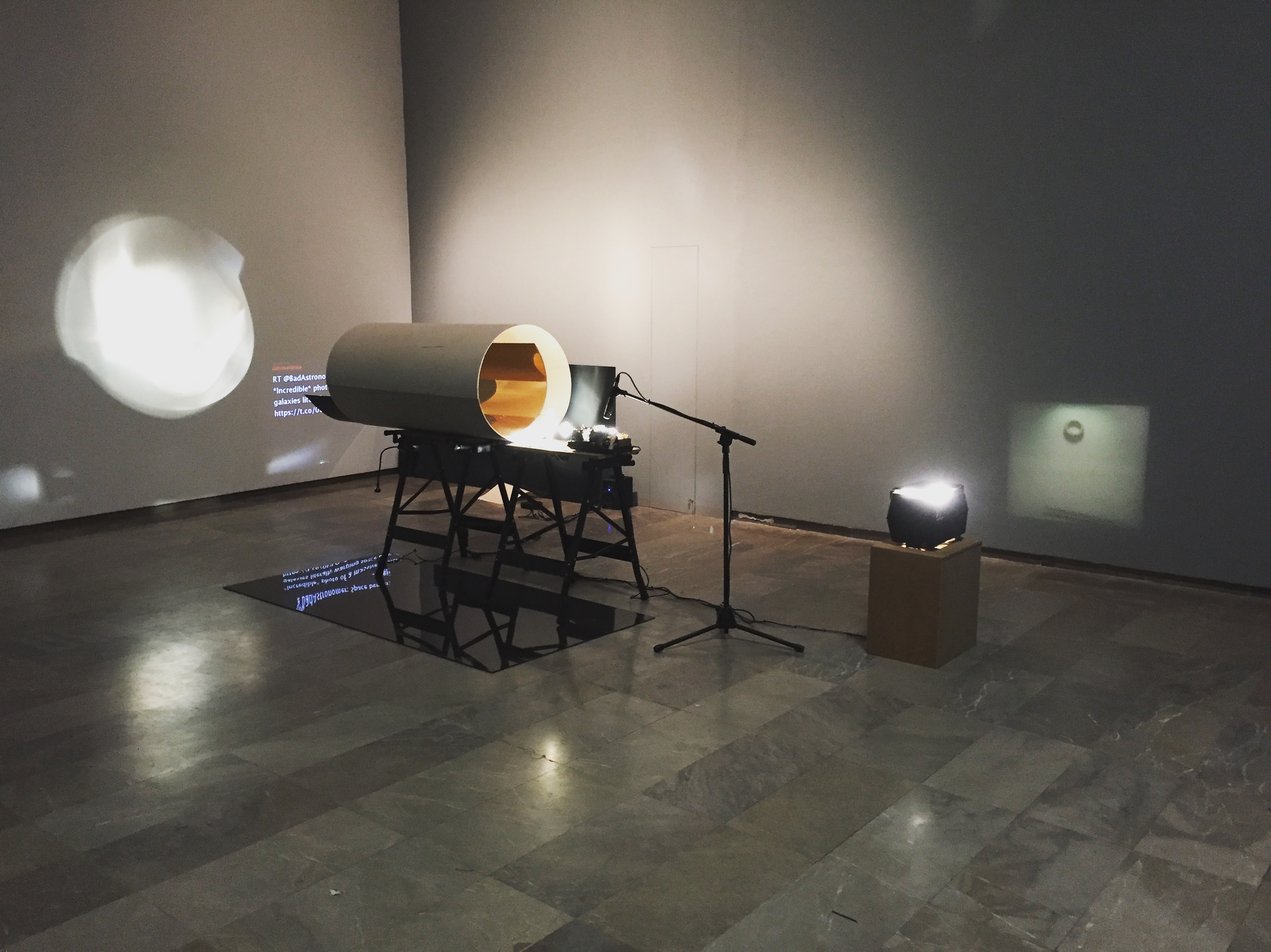 "Around. A systematic ensemble 4#", Kinetic-light installation controlled by real-time data (online)- Entertainment structure serie.
Moises Mañas (short bio)
He has a PhD in Visual Arts and Intermedia from UPV (Polytechinc University of Valencia) and a University Expert degree in Intranets and Internet Programming from the Dept of Information Science and Computing Systems at UPV. Since 2000 he is a member of "Laboratorio de Luz" research group at the same university.
After obtaining his degree Mañas received scholarships to study electronic art at Southampton Solent University, RU (1995-6), Carnegie Mellon University, Pittsburgh, EE.UU. (1998-99), and at Ars Electronica Center (AEC) 2002, Linz-Austria. He also received a FPI-UPV grant in 1999-2001 and the Alfons Roig scholarship from Diputación Valencia in 2009.
Mañas has had several solo show, namely "Congratulations we lost the image" in 2004, "WIN-D. World In Data Now" in 2007, "AROUND, a word of network" in 2012 at Galería Rosa Santos in Valencia and at MUA (University of Alicante).
Besides, his work was selected for many group exhibitions, including, "Festival Digital Image"-Espacio ENTER (Canary Island, 09); "El discreto encanto de la tecnología", Neue Galerie, Graz (Austria, 09); MEIAC_Badajoz 2008; ZKM, Germany, 08-09; "Valencia Biennial" 2007; "File 04" (Sao Paulo, Brasil); "Mediterranea 2000 & 04 (Athens); "Front", Edgard Neville, Alfafar 2003; "Lenguajes Híbridos"-2003, Gandía; "Entre les yeux et ce qu`íls voient", Lieges, 2001; "Pasos de cebra", Injuve, Madrid, 2001; "Inmedia" 2000, Michigan; "Observatori" 2000, "Intertecno" 2000, Valencia; "Vértigos: Artes visuales". Madrid-2000; "Festival de Creación Audiovisual de Navarra" 98/99/00; "Arte CD-ROM Españoles" (Costa Rica, Santo Domingo, Argentina, Colombia); Reina Sofía 1999/00; "II Muestra Internacional de arte en CDROM", MECAD, Sabadell-Barcelona 2000; "Arte Joven" Injuve 2000 (Uruguay, Argentina, Perú); "Ciber@rt" 1999; "Robotic Art: Interactive Installations & Robots, Pittsburg, USA, 1999; and "Analogic Bytes", Southampton, UK in 1997.